11.10.19
Major retailer invests in floor durability for its new logistics centre
A new logistics centre in Valencia, Spain has been built to withstand the rigours of retail life, thanks to investment in high quality, durable concrete flooring.
Investing £50m in a new logistics centre was a strategic decision for this major international retailer, as it seeks to expand its operations in the region as part of its continued growth in Spain.  An organisation investing at this magnitude will carefully scrutinise the whole-life operational cost of the building, to ensure long-term return on investment. Minimising costly operational downtime due to maintenance or structural failure will be paramount; and it was these considerations which drove the specification of the industrial floor at the new facility.
As trusted suppliers to this international brand for some 20 years, specialist flooring contractor Rinol Rocland Suesco was chosen to construct the internal and external concrete slabs. Due to the sheer scale of the project – 76,000m2 of flooring was required in total – the flooring team comprised over 50 staff.
In order to promote quality processes and ensure the finished slab conformed to specification, they worked in collaboration with industrial flooring consultant Monofloor Spain, who oversaw the floor's design and construction. Project management on-site was undertaken by multidisciplinary consultants Grupotec, based in Valencia.
Heavy-duty
The internal slab covered 50,000m2 and was specified as a heavy-duty slab with 200mm thick concrete, reinforced with two layers of fabric reinforcement to withstand the load of goods on racking and the impact of materials handling equipment. Each bay for a day's pour was 1300m2 and these were constructed using 3000m of Permaban AlphaJoint Classic 4010 and Permaban Eclipse armoured joints. Both are heavy-duty straight joints well-suited to free-movement areas of a warehouse.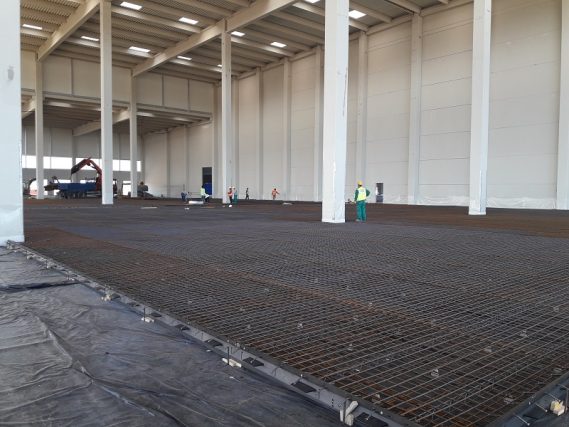 Resin coatings were used to provide specialist protection to battery-charging areas and workshops. Externally, the 20,000m2 hard standing also benefitted from a heavy-duty specification – 200mm thick concrete, reinforced with 25kg/m3 of steel fibres (Roc Fibras HT), plus a single layer of fabric reinforcement, in recognition of the different nature of loading and external vehicles.  The steel fibres were introduced to help control and reduce the concrete shrinkage, permitting larger panels to be created.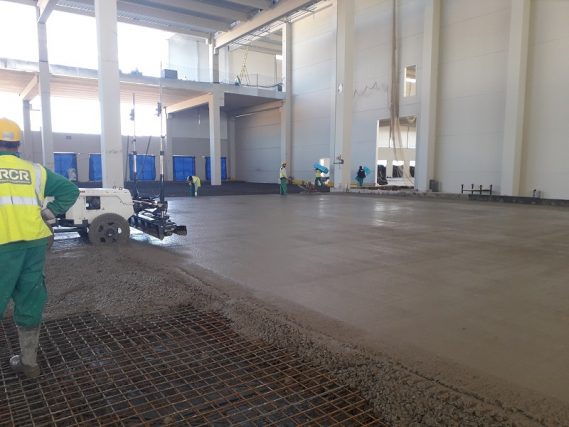 Two methods
Building the right degree of strength into a slab is vital to prevent structural weakening and failure – hence the heavy-duty specification. But it is the floor's surface which must endure the demands of day-to-day trafficking, impact and abrasion. Failure of the surface can result in both performance and safety issues, as well as incurring costly repairs.
The slab's surface was protected both internally and externally by the application of a surface hardener, Rocland Qualitop Millenium. This synthetic hardener comprises very hard non-metallic aggregates, cement and special additives, blended to provide excellent impact resistance and point load in the hardest working applications.
A surface hardener can be applied in two ways – as a dry power, sprinkled on fresh concrete ('dry-on-wet', also known as dry-shake); or as a dense slurry, premixed with water before application ('wet-on-wet').
The Valencia project used both methods. Externally the product was applied as a dry powder, at a rate of 2kg/m3. The powder blended with the surface water to form a paste, which dried hard and monolithic with the slab. This was appropriate, as the surface hardener was being used in its traditional role as a steel-fibre suppressant.
Internally, however, it was applied premixed as a thick layer, with a higher dosage of 13kg/m3.  It should be noted Qualitop Millenium can achieve a much higher level of surface protection at this dosage rate than other dry-shakes. The wet-on-wet method of application does not depend on the presence of sufficient bleed water to be effective, which greatly reduces any risk of delamination.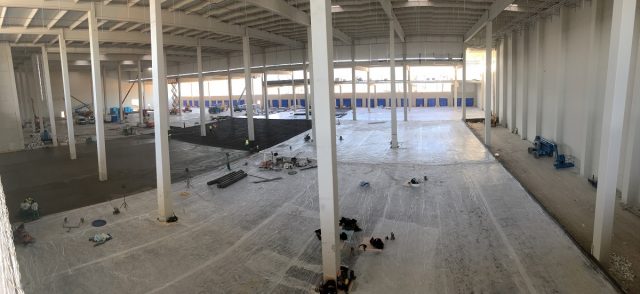 Demarcation
As a final step, 50,000m of permanent flooring demarcation, was created by shot-blasting into the surface and applying a three-layer specialist resin marking system manufactured by RINOL.
Handover
The flooring construction works took a total of 60 days – achieved to meet the client's required timescale. The building is newly completed and will soon be operational as one of the main logistics platforms in the area. By choosing a high specification floor with exceptional surface protection, the owners can rest assured that the floor will continue to function as specified for many years to come.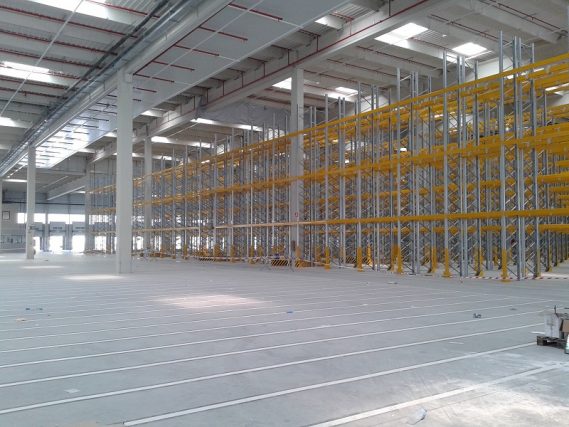 This article first appeared in Concrete magazine, September 2019.